Okay guys I wanted to introduce you the Charmer archetype. But first of all before I explain how you can play them I want you to tell you how flexible they are. They are also one of the few Archetype which has all 6 attributes.
The control Charmers
The first members of their Archetype are Aussa, Wynn, Eria and Hiita. Lyna and Dharc joined later the Archetype. They all are spellcaster type and level 3. Also their ATK (500) and DEF (1500) are the same. Their effect allows taking control of 1 Monster with a specific attribute as long as the Charmer is face-up. Also it is a flip effect which let people think their effects are a bit slow. You can speed it up with Book of Taiyou which force monster to flip summon it or you stall your opponent with cards where he can't attack them. They also can be used with Debris Dragon to Synchro Summon Black Rose Dragon or Gungir if you have Eria in the graveyard. By the way by sending a charmer and the same attribute of the Charmer you can screw the rules and special summon a Monster from the deck.
The Special Summon Charmer
Just like the control Charmer the Special Summon Charmer or better called The Familiar-Possessed Charmer are all have the same ATK (1850) and DEF (1500) points. Also They can be special summoned from the Deck by sending a Charmer and a Monster with the same attribute as the Charmer from the field to the graveyard. When They are special summon that why they gain a piercing effect and Dharc can search your Deck for a level 3 or 4 Light Spellcaster which is a references to Lyna . But her Familiar-Possessed form is not released yet but it would be have the same effect like Dharc but just with Dark spellcaster Monster. They don't see dangerous but they are good at deck thinning and can deal good damage.
The tribute Charmers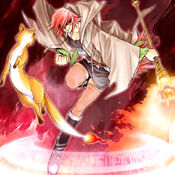 The tribute Charmers are the only one who still have the 4 basics attribute. They are all level 4 and have 800 ATK and 1500 DEF. They effect is to tribute a monster to special summon a Monster with the same Attribute from the hand. In today's format this variant is pretty old and they are too specific on the Attribute. Also you have to protect the Charmer or else your Special summons Monster will destroyed when the Charmer leaves the field.
Spiritual Art
The Spiritual Art traps are pretty good. Okay they all have the same cost to tribute a monster with a specific attribute. Well but that's okay and you can use them in any deck if you have the attribute. Here are some example how they can be useful in specific decks.
Aoi – any water Deck. If your monster should die you can tribute it to look at the hand of the opponent and discard any card you want. Or you can also just tribute treeborn.
Kurenai – any fire Deck. It is a good finisher card if you have a strong fire Monster and the opponent has low life points or if just your fire monster is saying good bye.
Myabi – any wind Deck. With this card you can send 1 card to the bottom of the deck from your opponent side of the field. In this Format it is not that good card but you could consider it.
Kurogane – any earth Deck. Tribute an earth monster to special summons a level 4 or lower Earth Monster. Can be good use in gadgets deck since they are all earth and can activate their effects when they are special summoned.
Greed – any dark Deck. Tribute an dark Monster to draw 2 cards sounds pretty good but it can also be negated and that's just by revealing a spell card. Against some deck it could be useful like bubble beat or if you know that you opponent don't have any spell cards in the hand. Anyway Fader is always ready to be tribute if you have him in the Deck.
Hijiri – I guess it is a good use in Chaos Dragon or any other Deck where you can banish light monster. It also can be negated by revealing a card but it has to be a trap card. This is the newest Spiritual art but I don't think it is this useful.
The Familiar of the Charmers
The Familiars of the Charmers are a bunch of normal Monsters with low ATK and DEF points (except for Gagagigo). But for the Familiar of Hiita is an exception.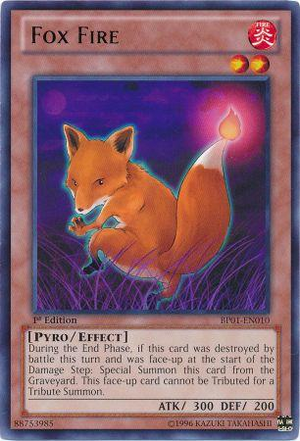 Fire Fox and Inaribi are both effect Monsters. Fire Fox can't be tribute for a tribute summons but he comes back after he is destroyed by battle. Inarabi can be special summoned while having a spellcaster on the field. Also if it is destroyed by card effect it will come back again in your next stand by phase. So you can re use him for Scrap Dragon as one example or do whatever you like. You can only control 1 Inaribi but that's okay. They both have also 200 DEF and can be used for Reklinding.
How to play Charmer
It is hard to get their Flip effects on the right time. I would consider it to play cards which prevent the opponent to attack your monster. Swords of revealing light are quite useful. Also Roaring roar and Negate Attack are Useful to protect the monster. Also you should play cards with the ability to change the attribute of opponents Monster like Spell scroll of bewitchment or DNA Transplant. Also some Genex Monsters has the ability to change the Attribute. Also good support cards are Magical Dimension, One-shot Wand, Wonder Wand, secret of village of the spellcaster and much more spellcaster support cards. Another good card would be "Ready for Intercepting". It is like Book of moon but just for Spellcaster and Warrior type Monster and it's a trap Card. So you can reuse the Flip effect of your Charmer if you use their Monster already for Excced or Synchro. Also a card that you should play in the Charmer deck is the Pixie Ring Trap Card. As long you have 2 face-up Attack Monster in position the weakest monster of you can't be attacked. Since the Charmer have only 500 ATK points it is really useful for them.
When you want to play with Synchro and for tuners you should play Debris Dragon and D.D. Sprite. For Debris Dragon it is clear why you should play him since they all have 500 ATK points. With D.D. Sprite you can banish a Monster that the opponent just owned and if he is still on your side on the field during next standby you will get the banished Monster back.
Deck Skeleton
Here I have one for a Spellcaster Charmer Deck
https://www.dropbox.com/s/z4rbhcy757bz3he/Charmer%20Spellcaster.JPG
https://www.dropbox.com/s/u00gomg4hquejfe/4%20element%20Charmer.JPG
Last words
Well now that you know more about them you can surely try to create a own Charmer Deck. Here some Charmer Deck names I have created. I won't give you the Deck list since you should try you own version of a Charmer deck. You can also try one attribute Charmer Deck for the beginning.
Charmer Controll (Trap less)
Charmer Controll (Spellcaster)
Charmer of the Black Garden
Charmer Plant
Hope you enjoyed the Charmer guide
The Charmer Master
Yukiii.